Got Scraps?! If you are anything like most crafters then you have SCRAPS GALORE! But most importantly, what do we do with them? We make simple cards using scraps! I am an "instant gratification crafter." For instance, I prefer to make cards VS scrapbooks. BUT I sure want to use my SCRAPS that I have to create cards. Have you read my previous post about the Strip Wreath? Remember to come back here after reading that post and learn how to use those scraps to make a simple card.
Craft a New Life for Your Scraps!
I flagged all those Strip Wreath ends with the Tailored Tag Punch and then my desk was littered with all these beautiful flowered triangles. Well, I certainly wasn't going to toss em. I HAVE to keep everything but I am not a hoarder, just, ya know, a crafter! 🙂
STEP ONE: Pick up the scraps! Ha ha, sorry, I couldn't help it….
Cutting Your Cardstock and Prepping the Scrap Card Front
Use your Trimmer to cut 2 mattes so they are cut at 4″ x 5-1/4″ from Basic White Cardstock. So one matte is for the front of the card and the other is for the inside sentiment.
Mark the middle of the front Basic White Cardstock matte lightly with a pencil so you can use this for placement of your scraps.
Prep your scraps for the card front: First, start without using any adhesive and lay out all the scrap triangles in a way that is pleasing to your eye. If you have other scraps for a simple card, use those here how you like instead of triangles.
Making Scraps into a Card front
Once you like the placement of your card scraps, glue them down with Multipurpose Liquid Glue (some know it as the "green glue bottle" or Tombo) ! Then, you can trim the pieces that are over hanging using your trusty Paper Snips. I have one card that is flush with the edge of the matte and the other one has a slight border of Basic White around the edges….look closely at the photo!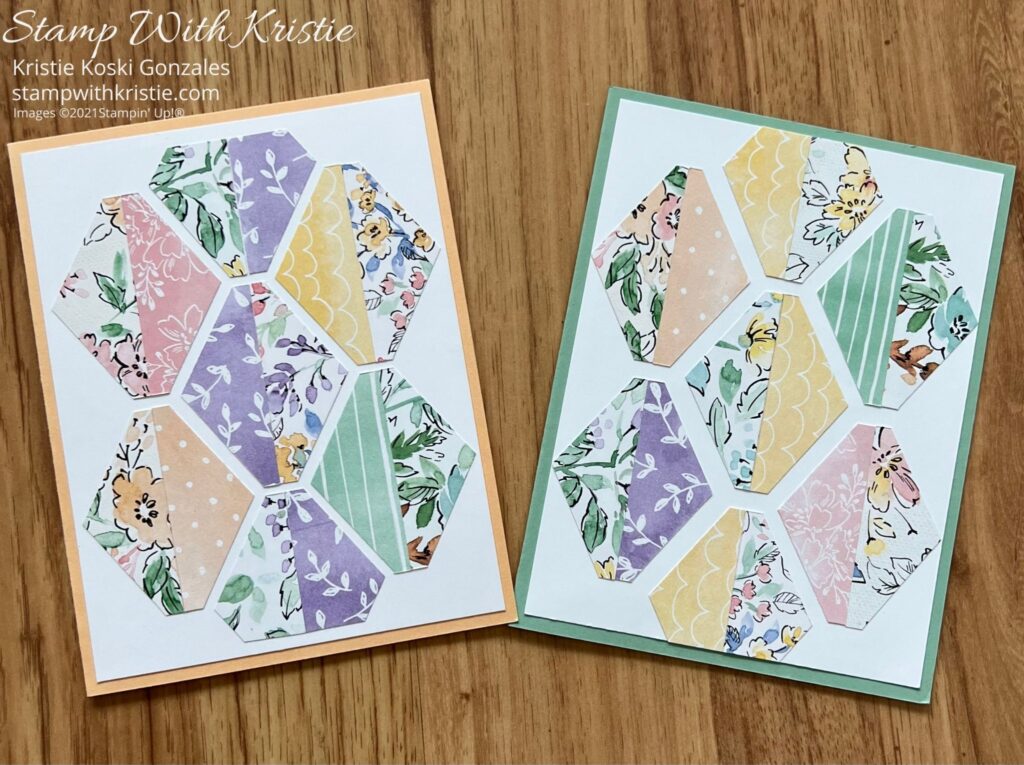 Final Put Together for Your Scrap Card
Adhere the Basic White matte using Stampin' Seal+ to your desired color of cardstock and gently burnish (press) the top of the card front with your bone folder so the adhesive sticks well.
Stamp the inside of second Basic White matte with a sentiment in coordinating ink then adhere that using Stampin' Seal. You can also stamp the outside of your Basic White Medium Envelope so your envelopes aren't naked!!!
Now that you read how to make a simple card using your scraps, tell me in the comments if you tried this or something similar!
Ahhhh….you know you were going to read this sometime so here it is! I am an Independent Stampin' Up!® Demonstrator so I use all products from Stampin' Up!® because I feel they are amazing and they coordinate beautifully!
The links to all the products I used are below so feel free to do some shopping!
Current specials & offers:
I hope you have a fabulous stamping day!
💗Kristie
Product List