Wow! This 3-Panel Card is a big one yet the folded size is just smaller than a regular A2 sized card. Do you want a large and in charge card? I have created a quite the fabulous one! (not to brag🤣) When fully opened, the dimensions are 5-1/2″ x 12″ and this card still fits in an A2 envelope.
You can see the card opened below.
Have you tried a Z-Fold card? Making a 3-Panel Card is very similar in the way it is scored and folded; however, you use the 12 x 12 cardstock as a base instead of the 8-1/2″ x 11″ cardstock.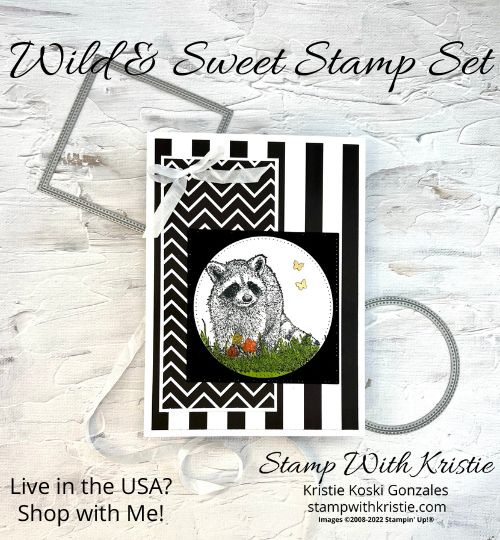 Decorating a 3-Panel Card
Use Designer Series Paper or Embossed Cardstock for Each Panel
You could use all DSP for each of the 3-Panels or you could use some strips of different colored cardstock, or maybe even use embossing folders to fancy up some cardstock. Anyway you choose, I am sure it will be gorgeous!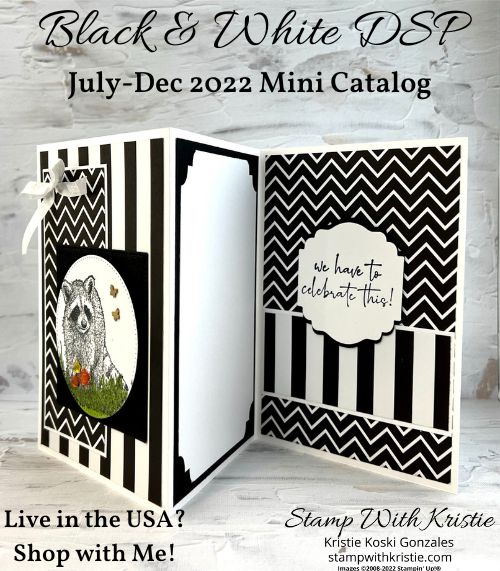 I soooo love black and white with a tiny POP of color! It reminds me of those black and white photos that have one red rose, or shoes, or some color that stands out to you. You know what I mean, right?
Have you made anything with the fabulous Black & White 12 x 12 DSP from the July-December Mini Holiday Catalog? CLICK HERE to check it out.
Do You Love Real Looking Animal Stamps?
How do you feel about the adorable raccoon? I adore his sweet face! HMM, too bad they aren't that sweet in real life, hey? What about the lovely little panda bear lazily lying on the tree branch, and the oh so fuzzy koala bear? I fell in 😍with this set as soon as I saw it. I didn't have real life looking stamps of these animals so I had to jump on that wagon! If you love these as much as I do, scroll on down and add to cart!🛒😉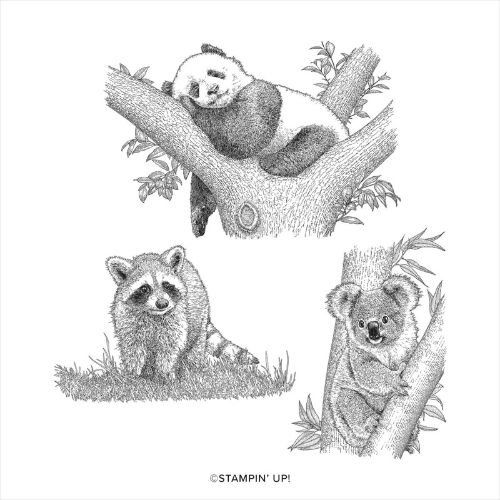 Try out your 3-Panel card today. You can purchase this full tutorial PLUS I add some tips and tricks to making multiple stamped/die cut images using the Stamparatus. Contact me here to purchase the 4-page tutorial with tips and tricks for just $5.00 USD.
Current specials & offers:
I hope you have a fabulous stamping day!
💗Kristie
Product List